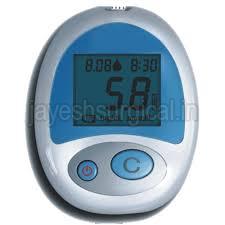 People, who should remain concerned about monitoring their blood sugar level, are the diabetics! It is an important part of diabetes care. After reading this article, readers will get to know when they should test their blood sugar and why?
Diabetics will be benefited by using a self-testing tool to measure their blood glucose level as this may help to plan their treatment and avoiding complications of diabetes. There are a number of recognized and effective portable digital diabetes check machine products available in the markets of Gujarat. People can buy any of them to test their blood sugar at home. These machines are easy to operate and can measure blood glucose from a drop of the blood sample.
Why testing blood sugar is important?
Testing blood sugar level or a self-monitoring of glucose level in blood can provide useful information for diabetic patients regarding the management of their health conditions. It helps in –
• Judging how good the patient is reaching his treatments goals
• Understanding how exercise and diet can help in maintaining blood sugar levels
• Realizing how stress or illness can affect sugar levels
• Monitoring the effects of medications on balancing blood sugar levels
• Identifying if the blood sugar level is high or low
When people should check their blood sugar?
Normally doctors advise for the time to check blood sugar levels for their diabetic patients. And, the treatment plan also varies depending on the types of diabetes people are suffering from. Here is a glance of it.
• Type 1 diabetes – generally for type 1 diabetic patients, doctors suggest for testing blood sugar levels 4-10 times in a day. The timings may be like before meals, before going to bed, pre and post exercise, during night times, etc. According to the results, patients may be needed to change their daily routine or regular medications.
• Type 2 diabetes – if the patient takes insulin then doctors may suggest for a few numbers of sugar testing in a day, but it completely depends on what type of insulin and how much he takes.
Continuous glucose monitor:
Diabetic patients who use insulin for treatment, especially in type 1 diabetes, may choose to use a CGM or continuous glucose monitor. Such devices have sensors which are inserted into the patients' skins and these measure blood sugar levels after a few minutes of continuous intervals.
Hence, diabetic patients can contact any genuine sugar test machine supplier in Gujarat to purchase a device for self-monitoring, as it is beneficial for their recovery!