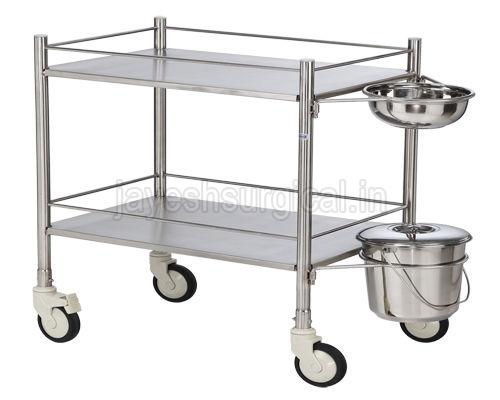 The trolley has been a central component of the medical field with stainless steel instruments. The stainless steel equipment trolley from SS instrument trolley exporters Gujarat holds the assist to carry all necessary items from one place to another. The devices are made from raw materials of stainless steel, are now rust-free, and also have a longer service life. It is larger to fit more objects and goods under the same roof and comes with a rust-proof facility for healthy and sustainable materials.

Choosing the item wisely is important. It could sound a little costly sometimes. But branded items may be used. The manufacturer of the trolley used the best advanced raw material for the development of the trolley. It has an overwhelming demand for performance and good quality in the international market. The trolleys are best made with the quality materials, since they are often used in medical areas, and the safety issue is also taken into account by the builder.

Characteristics:

The great thing is that it is rubber-resistant, but you still need to take some initiative to make it longer-lasting.
The trolley is a single investment because of its durable and rigid design. The trolley is a long-lasting one-time cost.
No matter how long you use the trolley, it will offer a fresh and brilliant look. The texture is glossy and shiny and extra carefully produced.
This chariot will carry on the weight of several instruments and devices at once. The power is so intense that it is no problem in such a trolley to hold so many items at once.

Salient Features :

Firstly, there are two stainless steel trolleys, both in the stable and in the helpful nature, which is fitted with a three-sided gauge.
Secondly, the carriage comes with an epoxy strength and a pretreated coated finish that makes it durable and bright.
Thirdly, these things are available on shelves, as far as you like, and stainless steel frames.
The framing is eventually well fitted with CRCA tubing and installed on rods.

These trolleys are used in clinics, chambers, labs, and medical schools. This form of the cart has been the first option in the medical profession because it is cost-effective and durability higher. Hospitals must be kept safe and clean so that patients can receive their care in a safer environment.

If the carts are packed in a flat position and thus do not generally require any kind of professional assistance, they can be placed very quickly and comfortably. The electro-polished and high-quality stainless steel medical carts make it highly helpful, comfortable, and suitable for the catering and hospitality industries. The wheels or rods attached at the end of the legs will easily move them from one position to another. The clinical cart locking device enhances its security

Final Words:
In addition to ensuring cleanliness, the administrative authority should look at the type of device and equipment in the hospital grounds. It is for them to give their patients the best care. If hospitals use a-grade operating equipment and other care, then why should all these things be processed and moved from one chamber to another? The hospitals should opt to use such a SS instrument trolley that is immune to rust and have enough room to transport too many things together without a problem.
This entry was posted on December, 21, 2020 at 14 : 40 pm and is filed under SS Instrument Trolley. You can follow any responses to this entry through the RSS 2.0 feed. You can leave a response from your own site.