How Does Using Adult Diapers Bring Relief To Seniors?
Posted by Admin on June, 29, 2021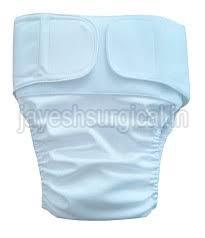 The transition period from a child to an adult has its own pros and cons. As an adult, we may sometimes face unfortunate situations which might be mortifying for us. Nature's call waits for none and we may often face the need to use the restroom while out on the road. But the option of availing the services of the restroom while traversing might be limited.
A safer and easier way to face such situations head is to carry and wear adult diapers. Adult diapers can be used by the youngsters as well as the seniors to stay stress-free about restroom issues.

What are adult diapers?
The ideas revolving around adult diapers are often confusing. To clear any confusion, adult diapers are basically nappies shaped like briefs or panties. These diapers come at a bigger size to fit all kinds of body shape. Mostly, the diapers are used by people who suffer from health conditions such as dementia, incontinence, diarrhoea, prostate problems, and urinary tract issues.
The diapers are usually made of superabsorbent polymer, cotton and the inside looks similar to that of a sanitary napkin. The absorbent in the diaper absorbs wastes and leaves no traces on your outfit.

Bringing relief to the senior citizens
The advantages of adult diapers and the benefits that several seniors have reaped out of using the diapers are countless. Take a look below to know more about how using the diapers have brought relief to the seniors.
• For those suffering from health conditions related to loose and unpredictable bowel movement and urinary movements, the diapers have ensured that the seniors can now freely strut about public gatherings and places and also go travelling with a peaceful mind.
• The diapers have also ensured that the seniors do not need to ask for help related to their washroom requirements. They can easily change the diapers on their own and discard the used one in the dustbin. This protects them from feeling any kind of shame or embarrassment.
• The adult diapers are easy to carry and can easily fit in compact bags and spaces. Also, the diapers are available at many stores. Adult diapers manufacturers Gujarat ensures the best supply of adult diapers.
• Seniors using adult diapers feel self-sufficient and also find their confidence increasing which gives them a new zeal to live life.

Many seniors have found it easy to move around with their existing health conditions after using an adult diaper.
This entry was posted on June, 29, 2021 at 15 : 28 pm and is filed under Adult Diapers. You can follow any responses to this entry through the RSS 2.0 feed. You can leave a response from your own site.