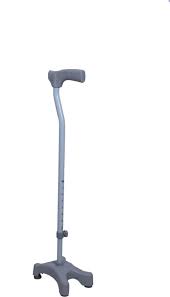 A surgical walking stick is a perfect solution for the old, the physically challenged, or patients who have trouble walking, or standing. For buying it online, you need to consider some key features.
To help you choose the correct stick here is an outline of those key features to look for.
Height and Weight Limit: Having the right height of surgical is very important for your stability and for comfort. Buying a stick at an improper length could aggravate your disability and lead to more aches and pains. To avoid uncertainty choose a stick that is height adjustable.
A walking stick may be the appropriate height, but not strong enough to bear the weight of the user. Check the weight recommendation or maximum user weight of the stick. For long-term use, look for a strong and durable stick.
Comfort: Comfort means your stick is right for your needs and that it has a comfortable grip. The most common models offered by surgical sticks manufacturers in India are the crook handle, swan neck, and t-handle.
The crook handle has the classic candy cane shape and can be made of wood or aluminum. This type of stick is best suited to the slight of temporary injured, or those needing a little extra support on a mild or temporary basis.
The t-handle has a 'T' at the top of the stick, making it easier to grip and therefore providing additional support. The swan neck has a slight bend in the neck, bringing the center of balance more directly over a stick than a straight handle does.
Stability: Stability is paramount, especially if you are an older person or if you need extra support.
As a solution, some walking sticks have four legs with a wide base, known as a quad stick. Quad sticks provide you with greater stability and support. Another benefit of a quad stick is that it can stand independently without you needing hold on to it. Quad sticks usually come in large or small, depending on the size of the rectangle base. The larger the base area the more stable the stick is.
Alternatively, a standard walking stick can be used with an attachable flexi-jointed foot or a tri-based contoured foot.
It comes with three robust legs, which provide more balance and stability. The cask and the handle are contoured and shaped to provide even weight distribution. The barrel has holes to allow the user to adjust the height of the stick as per convenience. These consist of Heavy duty ferrules at the ends of each leg.
It is important that all sticks have non slip high-quality rubber tips and that they are maintained. Sticks do wear out from excessive use and will need replacing at some stage.
So when the time comes to trial a walking stick make sure you look for
• Comfort,
• A good grip,
• Stability,
• Height adjustment,
What does leading surgical stick manufacturer India provide?
Supreme quality
• Available to supply in bulk
• Deliver on time safely
• Provide products at affordable price
• Deals in all medical equipment
It is recommended consulting a physiotherapist or occupational therapist if you intend to use your stick frequently.