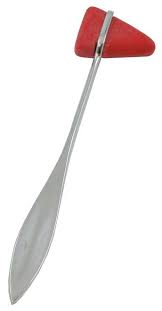 Ever visited a physiotherapist, an orthopedic, or any other doctor for pain in your bones, joints, limbs, or any other part of your body? Have you seen them hitting your hurt area with a hammer? Well, this is not a regular hammer used for breaking your bones! This is a reflex hammer!
You need not worry about this hammer that doctors and physicians use on your hurt body parts. This is just a hammer to check the type of problem that your bones have, their strength, and the intensity of pain. All the doctors are especially trained and professionally capable of using this reflex hammer in such a way that it does not hurt you. They also check the material, size, and other specifications of the hammer with the reflex hammer manufacturer in India to ensure that they are of the right type. In this write-up, we shall discuss some important things about reflex hammer so that you can shed all your apprehensions and doctors can also gain more insight into using these hammers better.
What Are Reflex Hammers?
We all know by now that reflex hammers are used by physicians and doctors, so, in a way, they would be categorized in the medical instrument category. In simple terms, reflex hammers are nothing but simple medical devices that are used for analyzing and testing the deep tendon reflexes in your body. When checking or performing any type of neurological physical examination, reflex hammers play a crucial role. By slightly touching your body part with the reflex hammer, doctors can detect if there are any type of abnormalities in the nervous system, whether central or peripheral. Not just that, these reflex hammers can also be used when you are getting a chest percussion testing done.
What Are The Different Models Of Reflex Hammers?
There are different models of reflex hammer that you can easily find in the market. If you are going out to look for reflex hammers, here are the different models you can look out for:
• Taylor Model: One of the most popular and widely used reflex hammers is the Taylor or tomahawk model of the reflex hammer. There is a rubber component in the shape of a triangle and it is attached directly on top of a flat metallic rod. This is not very heavy in weight as well.
• Queen Square Model: As this reflex hammer was invested and made in the National Hospital for Nervous Diseases in Queen Square, London, that's how it got its name. Originally, this hammer had a bamboo or cane handle. But now, it has plastic molds in place of the bamboo. However, its usage is now banned owing to the fact that they might cause infection.
• Babinski Model: The next model is the Babinski model of reflex hammer. The metallic hammer in the Babinski model is made from metal only but this is detachable. It is very easy to storage owing to its compact nature.
• Tromner Model: Designed by Ernst Tromner, the Tromner model has two-headed mallet in its shape. One of the mallets in the reflex hammer can be used for eliciting tendon stretch reflexes. The other mallet on the reflex hammer, on the other hand, is used for eliciting percussion myotonia.