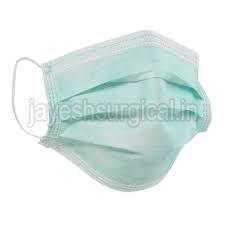 Face mask is a tool that is used for preventing the spread of disease. It is a disposable device that is meant to create a physical barrier between the mouth & nose of the wearer and potential contaminants in the immediate environment. Face masks are not to be shared and categorized as surgical, isolation, dental or medical procedure masks. These are loose-fitting masks that cover nose, mouth, & chin and have ear loops, or ties or bands to provide a perfect fit. Made with non-woven fabric, masks are skin-friendly and help in maintaining hygiene. Disposable masks come in a universal size and are green in color. If you have questions regarding who can use face mask and what to consider while using it, read on.

When Should You Wear a Mask?
1. When there is a Haze Period: Use a mask during the haze period to avoid exposure to pollutants, especially if you are suffering from chronic lung or heart disease. The ministry of health recommends masks for short exposure like commuting from home to workplace or school.

2. When you are sick: When you are not feeling well and coughing or sneezing, tiny droplets of saliva or mucus carrying airborne viruses are expelled into the air. These can be harmful to those around you and make them sick too. Wearing a mask is a good way to avert the spreading of germs to others. Wear a mask properly to prevent the droplets from being passed into the air when you sneeze or cough.

3. When others are sick: A mask can also be used to protect yourself against germs. For example, if your immune system is weak or you are recovering from illness, using mask can help you avoid inhaling harmful germs and developing further complications.

What To Consider While Using a Mask?
Masks contain filters that are meant to prevent germs and pollutants from being spread. However, for hygiene reasons, it is advised to use disposable masks and dispose them when they get moist. Use a disposable mask for maximum eight hours and it is good to change them regularly so that they can remain effective. Following are the points that can be considered while wearing a mask:
1. Do ensure that the mask fits snugly over the face. It means, the colored side of the mask should face outside, the strings or elastic bands are positioned properly to keep the mask in place, and nose, mouth & chin should be covered.
2. Try not to touch the mask once you secure it on your face. If you do so, do not forget to wash your hands before and after touching the mask.
3. When taking off the mask, avoid touching the outside of the mask as this may have germs.
4. After taking off the mask, fold it outwards, then put it in paper or plastic bag before putting in the bin.
5. A disposable mask used in hospitals, clinics or labs should be discarded after use. Replace the mask immediately if it is damaged or soiled.

Anyone can wear a face mask. People with respiratory infection symptoms or people who are caring them, health care workers in clinic settings, workers handling food, and people visiting hospitals & clinics among others can wear a mask. In general, anyone who feels the need to wear a mask is allowed to do so. It is advised to keep a mask handy so that one can put it on as the need arises. To find wholesale disposable face mask suppliers in Gujarat, one can search online.
This entry was posted on June, 30, 2021 at 17 : 31 pm and is filed under face mask. You can follow any responses to this entry through the RSS 2.0 feed. You can leave a response from your own site.