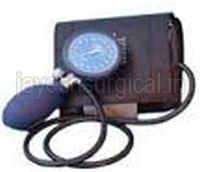 Blood pressure machine is a portable equipment which displays the blood pressure levels, detects irregular heartbeats and body movements which helps in giving accurate results. It is a self monitoring tool which can be used at home as well. Furthermore, they are cheap, easy to perform, convenient, standard arm cuff and instant access reporting. It is proficient in supporting your overall health and wellness.

India is crowded with an enormous number of manufacturers, exporters and suppliers of blood pressure machines which is highly demanded in the pharmaceutical industry. Jayesh Surgical is one of the prominent manufacturers and exporters of Blood pressure machines in Gujarat which also has a wide variety of hospital appliances.

Attributes to be considered while buying Blood Pressure machines are-

It offers warranty from the date of purchase.

It has the latest technology.

It has longer battery life.

It has a memory function to account your last reading.

It calculates blood pressure and heartbeat rapidly and accurately.

It offers reminder alarms.

It is user friendly and offers guest mode.


Why Blood Pressure measuring is important for Hypertension:

Blood pressure is the pressure of circulating blood on the walls of your arteries. The reading consists of two numbers or levels. The first number(top) is your systolic blood pressure and the other (bottom) is your diastolic blood pressure. Systolic blood pressure is when your heart pushes blood out and diastolic blood pressure is when your heart rests between beats. An optimal level of Blood pressure is 120/80mmHg and above this level is called Hypertension which is the most prevalent mendable cause of cardiovascular disease that can lead to a number of other health issues like stroke, hyperthyroidism, kidney failure and even death. Measurement of blood pressure is recommended for those who are at risk for these diseases. Incorporating regular readings of your blood pressure into your routine is an active way to diagnose potential critical situations.


Blood pressure machine manufacturers in Gujarat can stand tall in the market due to the following reasons-

They should have large infrastructure divided into different sections like manufacturing, quality check, packaging, warehousing.

They should be well equipped with technologically advanced tools for the production.

They should have well trained experts who have the capacity to produce international quality blood pressure machines.

They should conduct quality checks for each batch to ensure the best quality of the products.

They should have an experienced team for handling logistics for the smooth transportation of blood pressure machines.

They should have enough capacity to meet the demand within the committed time frame.

They should price their product at the market leading prices.

They should provide outstanding customer service for a lifetime.

Thus, we can conclude that blood pressure machines demand is sprouting with the emergence of various health issues due to an imbalanced lifestyle. If you haven't been checking your blood pressure regularly, it's time you start and invest in an affordable blood pressure machine for error free readings.